I went to New York City with mandimercedes February 27-March 1. It was a spontaneous weekend getaway. I had been annoyed, bored, and stressed with some situations here in Baltimore. I was on the verge of going off on people. I'm glad we went because I came back feeling a lot better and even right now I feel a lot better because of it.
The reason we ended up going at the last minute was because I heard the weather would be nice, I had less homework than usual, and I had been wanting to visit anyway. That Friday was a gorgeous day outside and the weather forecast was great for the rest of the weekend. I checked the weather in NY and it was supposed to be nice there as well. I texted Mandi saying that I was in the mood to go to NY and she was just like "if you're serious, let's go". So we decided to go, just like that, haha.
I booked a hotel on my lunch break and we were lucky enough to get a room at the Hilton Garden Inn in Times Square for $99 per night, thanks to Mandi's mad skills at finding good hotel deals online.
To my lj friends: Sorry I couldn't put this under a cut. I tried and I tried but LJ kept re-formatting it totally wrong and deleting content, even when I clicked "Disable Auto-Formatting".
Friday Night
We didn't leave her house until after 9pm. I worked all day and had to pack and shower. So by the time we got to Manhattan, checked in, and got ready, we didn't end up going out until after 2am. But no worries – clubs are open there much later than in Baltimore. We got in our room and practically jumped up and down with joy because of how nice the room was and what a great view of the city we had. We were on the 15th floor, which was the top floor. (It was technically floor 14, since there was no 13th floor).
Entering Manhattan: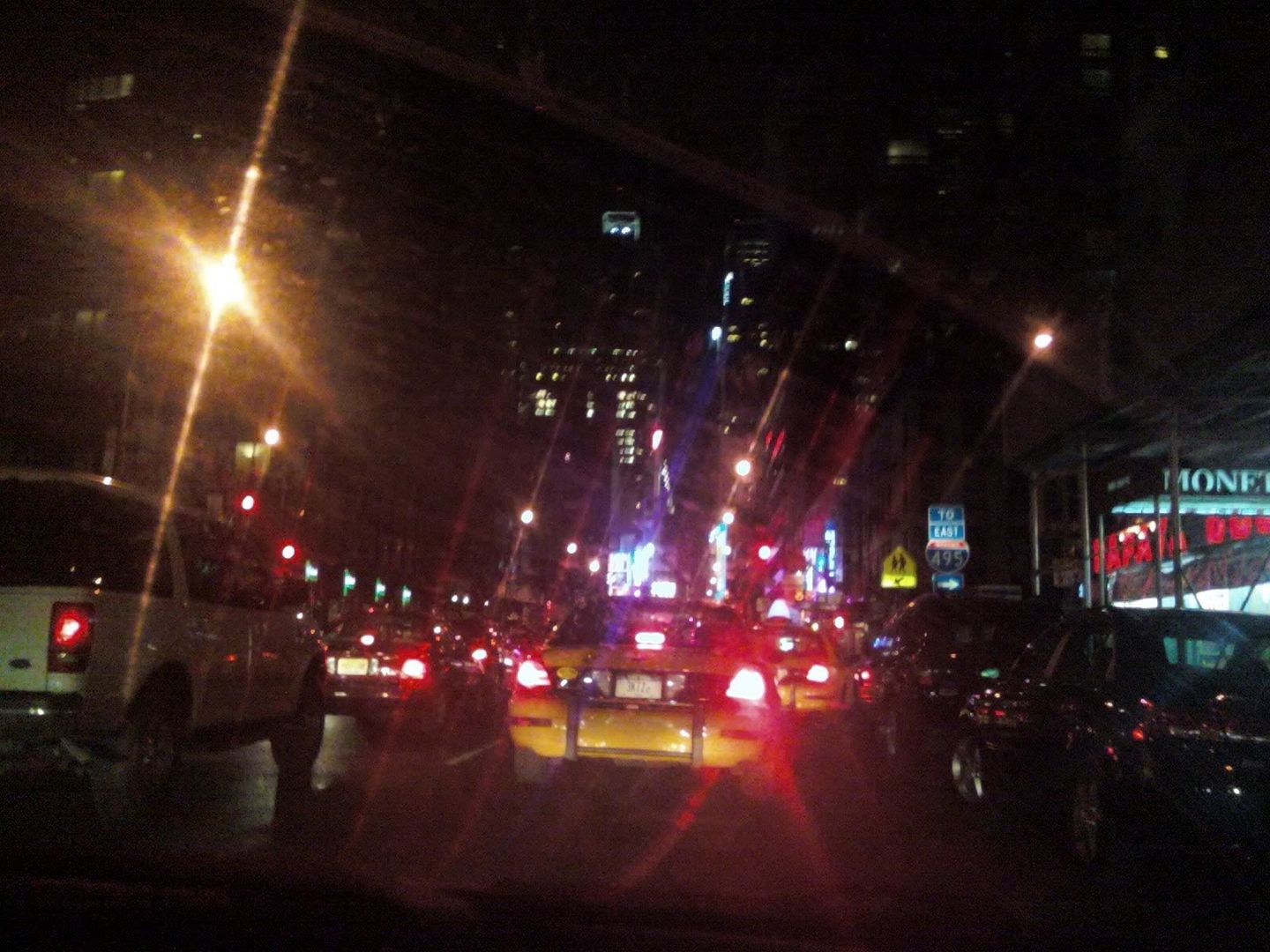 The view from our hotel room: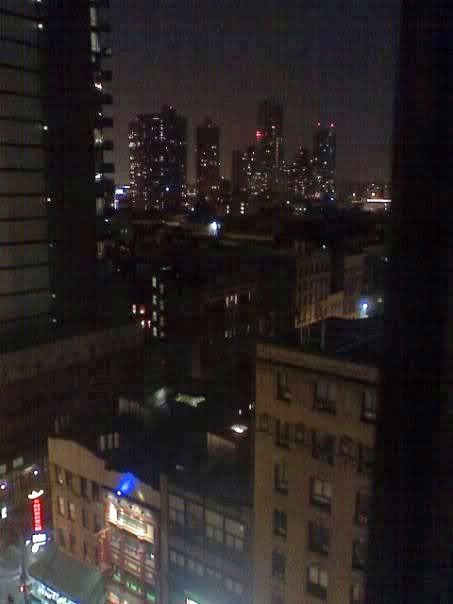 The first night, we hung out in Manhattan. We stopped by Angels & Kings first but not much was going on there by the time we had arrived. We walked down a few blocks to Webster Hall and hit up the dance party
Trash
. It was fun times! It reminded me a lot of Taxlo at Sonar here in Baltimore, but back a few years ago when it was at its peak. There was also some sort of mini-burlesque show mixed in between DJ sets. We easily met a few people there, as folks were just friendly and started making conversation with us.
We ended up both on NickyDigital.com and DrivenByBoredom.com. Here are the pics:
We knew that the bars stopped serving at 4am so we just assumed the club would close at 4 (or 20-30 mins before that, as they usually kick everyone out in Baltimore about 1:30 or 1:40, even though the bars have until 2am). They served right up until 4am and to my surprise, the club was still open after that. Trash closed a little before 5am and the dance party that was upstairs was still kickin' when we left. And guess what? They don't come up to you and yell and scream in your face to get out. I don't know if this is how all venues in NYC are, but this was a welcome change from Baltimore. I sort of understand why they do it here, but it's still nice to be a patron and not be treated like crap.
We stepped outside and met even more people in front of Webster Hall. People were asking what else was going on and if we knew where the after party was. Mandi said to someone, "After party? It's so late." This guy replied, "It's only 5am, what are you talking about?" Haha, I love it. What I also liked was that the food comes to you. I knew there were stands all through Manhattan that serve hot food but I just assumed it was mostly stuff I would never eat and I also didn't realize that they would be there that late at night. That area had a falafel stand. I want to hit that up another time. We ended up going to Ray's Pizza with some people we met. After we got there, I realized that I had eaten there the night I/Skitzo Calypso played CB's a few years ago.
As we were walking to the metro station, we saw two crust punks who were at Ray's and they were in physical fights with two non-punk dudes. The punks were losing. The other non-punk dude left after beating on a guy. But the other non-punk guy – who was this really short, but buff dude – stayed and was beating up the punks. More punks came, but somehow the one dude was winning against all of them. Don't ask me how, but it's true. He was maybe 4' 4" but he was muscular and tough (and I think probably a bit crazy). Then he took his shirt and his belt off and came after them with his belt swinging. It was crazy! Cops finally drove by and saw what was happening, so they stopped. The punks were yelling, "Help, he's beating us up!" and we snickered to ourselves, "Yeah, like they're really going to believe that, even though it's true – one little dude beating up that whole group". But the cops instantly believed them, haha. Angry NYC cops yelling at him = loved it! Police officers don't mess around there. At this point, we decided to leave because the reason we stayed was to make sure that no one got seriously hurt.
Here's a picture Mandi took of the incident:
We were walking back to our hotel in Times Square at 6:30am and people were still coming up to us and making conversation. Some crazy, old dude with a Slipknot shirt tried to get our attention but we kept walking. Not everyone out at that time was weird, though. We met some kind of cute dudes from the Bronx. They walked us to our hotel. And then Mandi and I hit the hay around 8am.
View from our hotel room at around 7am: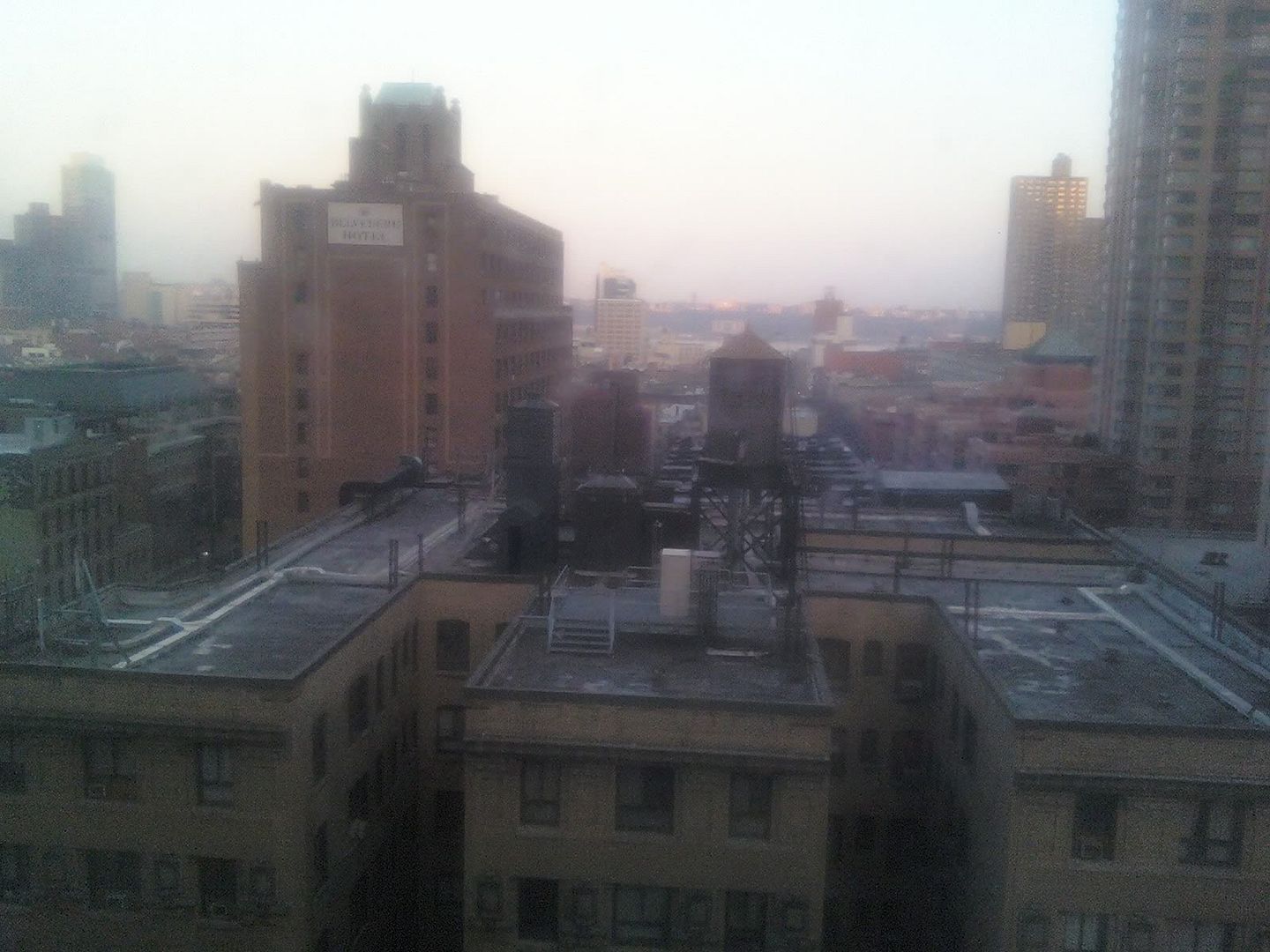 We got up in the afternoon, but were awaken in the morning. We had a "Do Not Disturb" sign so that the maids wouldn't come in our room to clean. The front desk called us anyway, asking if we wanted them to clean our room. They actually called two or three more times through the day and night to ask if everything was okay and if we needed anything. Mandi answered and told them, "We're fine, just stop calling! This is the fourth time today!" and the guy said, "Oh, Golly Gee! I'm so sorry. It must be a computer error." Oh, Golly Gee? Haha. Is this why South Park was making fun of the airport Hilton in the episode where Cartman has the Ginger Power meeting?
Employee: (Interrupting the meeting) Welcome to the Airport Hilton. Do you need anything else? Cartman: Yes, we're fine. Now leave us alone!
I guess if we stay there again, we'll have to tell them specifically that we sleep late and not to call; and if we need anything – don't call us, we'll call you. It was otherwise a good hotel and we enjoyed our stay. The employees were really friendly and helpful.
We spent the afternoon being lazy, which was fantastic, lol. We lounged around, watching cable and local programs on the widescreen HD TV. We had Japanese food delivered to our hotel room, including some of the best sushi I had ever eaten. I love that you can get just about anything delivered in that city. I don't think sushi delivery exists in Baltimore, except for catering (which doesn't count).
That night was spent in Manhattan again. A bunch of cool things were taking place on Saturday and Mandi had a few friends in bands that were all playing shows that same night. We decided to hit up Arlene's Grocery in the Lower East Side because Acey Slade was playing. But we had just missed the band by the time we got there because we didn't realize the show started early and there were several other bands playing. That's what we get for not planning anything. The place was packed. There was a room where you could hang out and drink and another where the bands were playing. We stayed in the hang out room and they were playing classic punk music, which was cool. (If you say "classic punk music" in Baltimore, people think you mean Blink-182. What I mean is they were playing music from the bands that were mostly from that same neighborhood we were in and from the late 70s). Mandi introduced me to the band. We hung out there for a couple hours and chatted with Acey for a while. Then we headed down to 30 Rock (30 Rockefeller/The GE Building/NBC Studios) in Times Square to catch the SNL cast and writers walking out. You can read about that and see pictures here. This was the night Justin Timberlake did the Cathy skit, but we didn't see him.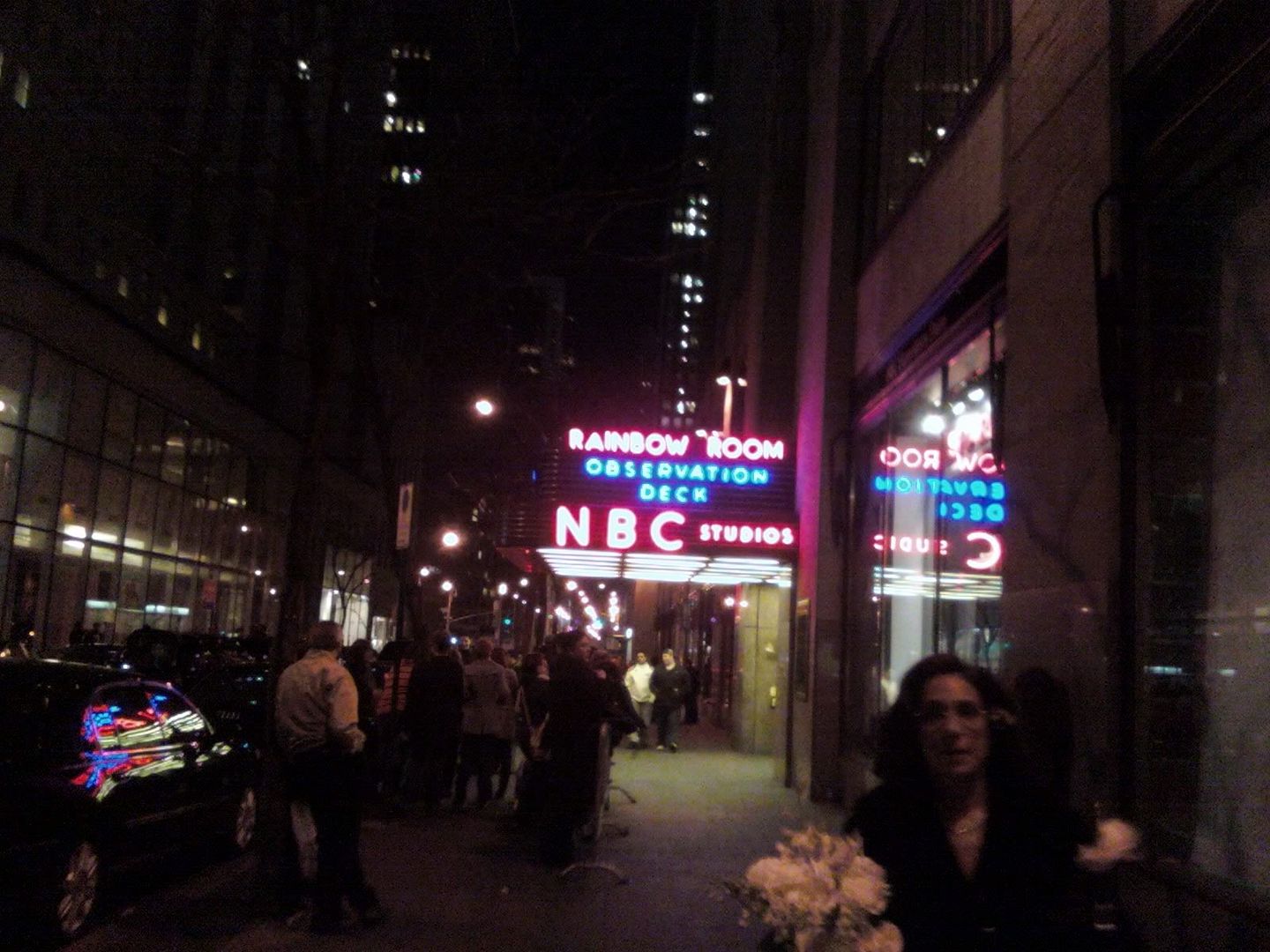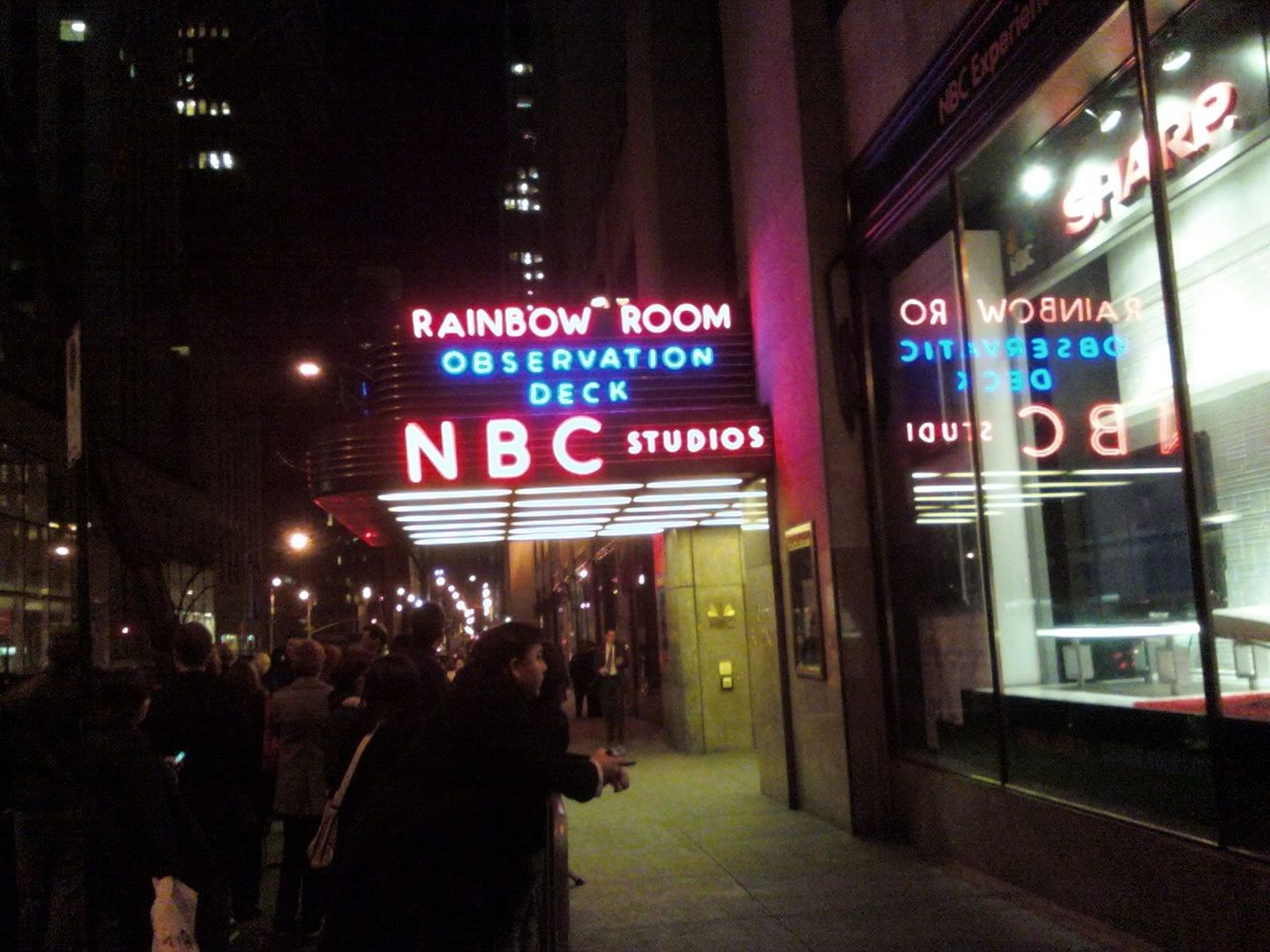 Oh, look at all those fans waiting to meet me. (Psych!)

Check out time was 11:00am, which was basically 10 o'clock because that was the first day of Daylight Savings. We met up with someone we met at Trash. We first went to the Corner Bistro restaurant, which was somewhere between the West Village and the Meat Packing District. I had the delicious chicken burger with a couple Blue Moon beers.

Here's a picture I took in the Women's bathroom, haha. This was beneath the sink:
Then we went to Brooklyn. As soon as we got off the subway and walked up the stairs into Brooklyn, the first thing I noticed was how quiet it was. The noise in Manhattan didn't bother me at all, but after being there since Friday night, I couldn't help but notice the difference immediately. We walked up and down the Brooklyn Promenade. It was a gorgeous day outside and the view was fantastic. We ate at some ice cream shoppe on the river. I can't remember its name but the ice cream was yummy and all natural. We saw a beautiful bride and groom and their guest, who were either Japanese or Japanese-American, getting their pictures taken in front of the river.

Mandi and I on the Brooklyn Promenade:
We went back to Times Square and went into some stores. I bought a knock-off purse from a random stand there. I finally found a purse that works for me. 🙂 I don't care about people thinking I have an expensive purse, but those designers and the knock-offs are the only hand bags that have all the compartments and space that I need. We headed back to Mandi's car and started to leave around 6:30pm. Our hotel was just a few blocks into the city after getting off the highway. But it took us an hour and a half just to get past the tunnel. We got back to Mandi's around 11 and I got back to my place around 11:30. I was tired, but it was totally worth it.

Tags: